Best Patio Heaters of 2023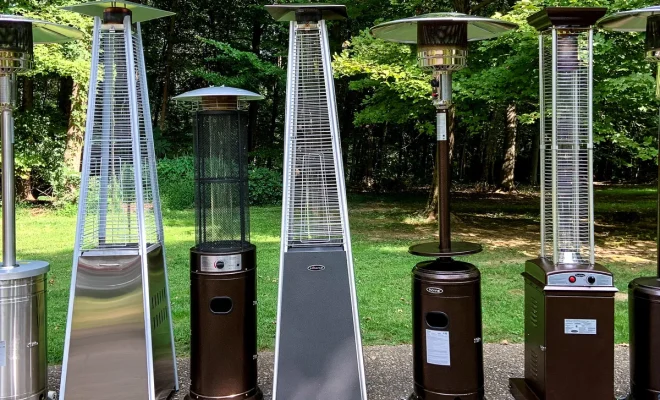 Introduction:
As the year progresses, outdoor activities become even more enticing, especially when you have access to a comfortable patio. To fully enjoy your patio, it's essential to invest in the right patio heater to keep you and your guests warm. This article will present the best patio heaters of 2023, each with its unique features that cater to different needs and preferences.
1. Propane Patio Heater – Garden Treasures Liquid Propane Heater
The Garden Treasures Liquid Propane Heater is a stylish and powerful option for those looking for easy-to-use heating that provides ample warmth. With over 40,000 BTUs of heat output, this heater can cover an impressive radius of up to 18 feet. Its durable stainless-steel exterior ensures longevity while also adding a fashionable touch to any outdoor space.
2. Electric Infrared Heater – Bromic Tungsten Smart-Heat
Bromic Tungsten's Smart-Heat electric infrared patio heater prides itself on a combination of modern technology, efficient heating, and sleek design. The adjustable brackets allow for easy installation and precise positioning to ensure perfect warmth exactly where you need it. Its weather-resistant construction guarantees reliable performance throughout the seasons.
3. Natural Gas Patio Heater – Sunglo Permanent Post Heater
If a natural gas option is what you seek, the Sunglo Permanent Post Heater is the top choice. This commercial-grade heater boasts an astounding heat output of up to 50,000 BTUs and a coverage area of around 20 feet. Moreover, its customizable pole height makes it suitable for various locations with different clearance requirements.
4. Tabletop Propane Heater – AZ Patio Heaters HLDS032-GTTHG
For those with limited space or who desire portability without compromising heat output, the AZ Patio Heaters tabletop model serves as an excellent choice. It offers 11,000 BTUs of heat and can sufficiently cover an area of up to 5 feet. This stylish, compact heater is a must-have for smaller patios and balconies.
5. Hanging Electric Heater – Energ HEA-21533 Infrared Electric Outdoor Heater
The Energ HEA-21533 hanging electric patio heater is an excellent choice for individuals who
prefer a non-intrusive heating solution. Emitting 5,100 BTUs of heat, this energy-efficient option is equipped with a remote control that makes temperature adjustments easy and convenient. Its attractive design easily blends into most patio décors.
Conclusion:
When choosing the best patio heater for your outdoor space in 2023, consider factors such as fuel type, heat output, coverage area, and design to ensure you find the perfect fit. The products mentioned in this article cater to various preferences and budgets, guaranteeing that your patio remains invitingly warm throughout the year.