Best Fire TV Stick : Fire Stick 4K Max, Lite, Fire TV Cube and More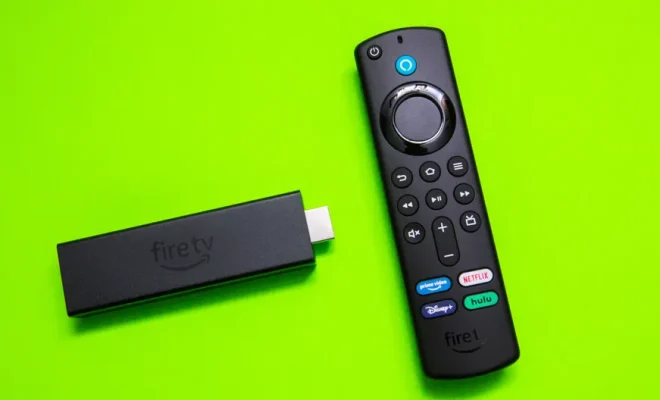 Amazon's Fire TV Stick has been a popular streaming device ever since its launch in 2014. With the launch of a new range of Fire TV Sticks, Amazon has once again wowed its users. With its latest 2021 lineup, Amazon has brought a lot of new features and improvements in the streaming device category. Let's have a look at the best Fire TV Sticks currently available.
Fire Stick 4K Max:
The Fire Stick 4K Max is Amazon's most powerful streaming stick with a faster processor and increased storage capacity. It comes with support for Dolby Vision HDR, HDR10, and HDR10+, making it a true 4K Ultra HD streaming device. It also has Alexa Voice Remote so that you can control the device and stream your favorite content with your voice commands. Another new addition is the Wi-Fi 6 support, which offers faster internet speed and lower latency.
Fire Stick Lite:
The Fire Stick Lite is the most affordable Fire TV Stick on the market. It comes with a 1080p HD streaming capability and Alexa Voice Remote Lite. It still offers access to thousands of apps, including Netflix, Amazon Prime Video, Disney+, and more. It supports Dolby Atmos for a great sound experience.
Fire TV Cube:
The Fire TV Cube combines the features of a Fire TV Stick and an Echo device. It comes with a hands-free Alexa experience plus 4K Ultra HD streaming. The Fire TV Cube also has a built-in speaker, which helps you control other smart home devices with Alexa commands. The Fire TV Cube also has infrared capabilities, so you can use it to control your TV, soundbar or any other device that uses IR signals.
Fire TV Stick (3rd Gen):
The third-generation Fire TV Stick comes with a powerful processor that offers better streaming quality with faster streaming speeds. It also supports 1080p HD streaming with HDR and HDR10+. The device comes with Alexa Voice Remote included.
Conclusion:
All the above-mentioned Fire TV Sticks offer remarkable features and functionalities. The decision of which one to choose largely depends on the individual's requirements and budget. The Fire Stick 4K Max would be a good choice for people who want the highest quality streaming experience, while the Fire TV Cube is for someone who wants a voice control experience bundled with TV streaming features. If you are looking for an affordable yet capable streaming device, the Fire TV Stick Lite is a great option. The third-generation Fire TV Stick is also an excellent choice for people who want a powerful device at a reasonable price. With all this information, you can choose the best Fire TV Stick that suits your preferences and budget.