Best Anime Streaming Services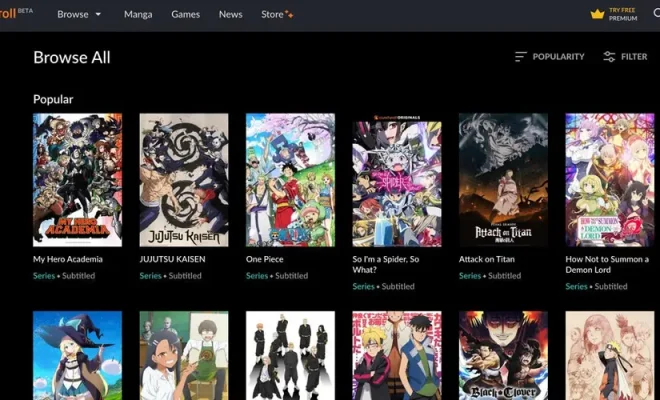 When it comes to watching anime, there are plenty of streaming services available on the web. But with so many choices, deciding which one to use can be a daunting task. To help you get started, we've put together a list of the best anime streaming services available on the internet today.
1. Crunchyroll
Crunchyroll is one of the most popular anime streaming services, and for a good reason. The site has a vast library of both popular and obscure anime titles. It also features many anime series that are simulcasted from Japan. The service has a free version that can be accessed, but the best experience will come from paying for the premium service. The premium service will give you unlimited access to their entire library of anime, as well as an ad-free experience, 1080p quality video streaming, and instant access to newly released episodes.
2. Funimation
Funimation is an excellent streaming service that primarily focuses on English-dubbed anime. It has a vast library of anime and is known for its high-quality dubs. Similar to Crunchyroll, Funimation offers a free version and a premium version. The premium version is where you'll gain access to the complete catalog, including some of its most popular shows like Dragon Ball, One Piece, and Attack on Titan.
3. Netflix
Netflix might not seem like an anime streaming service, but over the years, it has grown a vast library of anime shows and movies. Netflix is also different from the above mentioned services because it has its exclusive anime creations like Castlevania, Seven Deadly Sins, and Violet Evergarden. The streaming service also provides options for English dubbing and subtitles for their anime titles, making it an excellent option for those who prefer more accessible streaming.
4. Hulu
Hulu is yet another streaming service that has a vast library of anime in its offerings. The selection is not as extensive as that of Crunchyroll or Funimation, but they provide some of the most popular anime series like Naruto, Hunter X Hunter, and Sword Art Online. Hulu also offers a wide range of other content, including TV shows and movies, making it an excellent choice for those who prefer variety in their streaming.
5. Amazon Prime Video
Amazon Prime Video offers a range of anime content similar to that of Netflix, with a mix of exclusive series and movies in Crunchyroll's catalog. The streaming service also offers English dubbing and subtitles, making it a great option for those who like to watch their anime in their native language. Amazon Prime Video also offers additional benefits, such as free two-day shipping, the Kindle e-book library, and access to Amazon Music.
The anime streaming landscape is rich and diverse, with numerous options to choose from. Each service offers a unique selection of titles, exclusive shows, and different features, making it essential to decide which one will meet your needs. Hopefully, this article has helped you narrow down your options and get you one step closer to finding the perfect anime streaming service that suits your preferences.