Alienware Alpha Review: A PC that Thinks Like a Game Console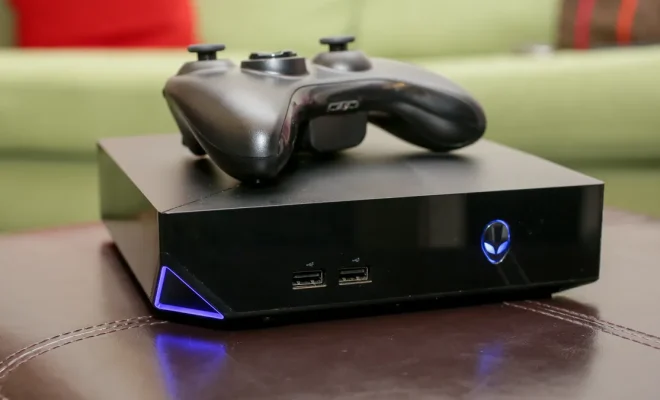 Over the years, the line between gaming consoles and PCs has become increasingly blurred. Gamers want the power and flexibility of a PC packed into the easily accessible and intuitive format of a gaming console. Alienware, known for its high-performance gaming hardware, has addressed this desire with their unique offering: The Alienware Alpha.
Design and Build
The Alienware Alpha stands out with its compact and minimalist design resembling traditional game consoles. Measuring 7.87 x 7.87 x 2.17 inches, it can easily fit into your TV setup without occupying much space. Its sleek, matte black look is accentuated by customizable LED lights on the front, which add a touch of personalization to your gaming experience.
Hardware and Performance
The Alienware Alpha packs impressive hardware under its small frame, allowing it to deliver excellent gaming performance. It comes in four different models, each with varying configurations of Intel Core processors and NVIDIA GeForce GTX graphics cards. These options provide users with the ability to choose a system that meets their performance needs and budget constraints
User Interface: Alienware HiveMind
One of the significant features that sets the Alienware Alpha apart from traditional gaming PCs is its custom user interface: Alienware HiveMind. A version of Windows 10 serves as the system's foundation while the HiveMind interface sits on top, creating an intuitive console-like experience for users.
HiveMind lets you navigate seamlessly between your game library, media apps (such as Netflix), and even provides basic computer functions like browsing the web. This interface is designed specifically for use with a controller, making it perfect for gamers who prefer couch co-op or single-player experiences through their TV sets
Gaming Experience
In terms of gaming performance, the Alienware Alpha does not disappoint – most modern games run smoothly at medium-to-high settings at 1080p resolution. The built-in NVIDIA GeForce graphics cards provide stunning visuals, ensuring that your gaming sessions are immersive and enjoyable.
Additionally, the Alpha's easy integration with other devices such as game controllers, speakers, headphones, and VR headsets further enhances the overall gaming experience.
Pros and Cons
Pros:
– Compact and sleek design that fits into various spaces
– Impressive hardware configurations for various price points
– Alienware HiveMind user interface
– Smooth gameplay and excellent visual performance
Cons:
– Limited upgrade options due to the compact size
– Higher-tier configurations can be expensive compared to other similar-sized gaming PCs.
Conclusion
The Alienware Alpha successfully bridges the gap between PC gaming and the console-like experience that many gamers crave. Its unique design, customizable hardware options, and easy-to-navigate interface make it a compelling choice for those looking to enhance their gaming setups or enter the world of PC gaming without feeling overwhelmed by traditional choices on the market.