2023 Toyota BZ4X Review: Bad Name, Decent EV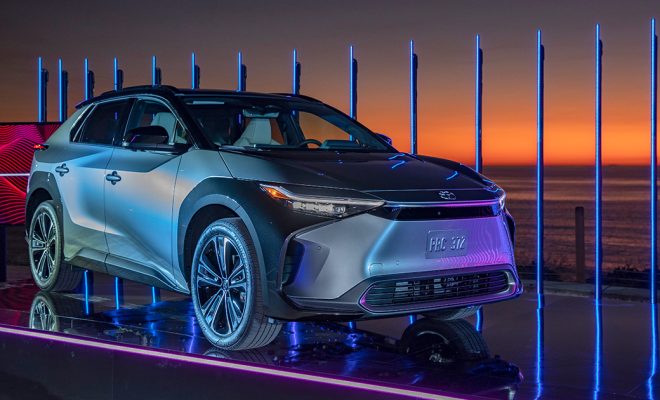 Introduction
The 2023 Toyota BZ4X marks the automaker's entry into an ever-growing electric vehicle market. Despite its awkward name, the BZ4X promises a competitive and exciting addition to the EV lineup. In this review, we'll explore the various features and aspects of the 2023 Toyota BZ4X that make this vehicle stand out among its competitors.
Exterior Design
Despite its cumbersome name, the 2023 Toyota BZ4X boasts a bold and aggressive exterior design. The front fascia features slim LED headlights and an eye-catching grille-less design that is characteristic of electric vehicles. The sharp lines and distinct edges of the vehicle give it a futuristic look while maintaining a strong presence on the road.
Interior and Comfort
The interior of the 2023 Toyota BZ4X is well-appointed and modern. As with most electric vehicles, there's push-button start as well as a digital gauge cluster to aid drivers in monitoring battery levels. The cabin comfortably seats up to five passengers and offers plenty of room for cargo storage.
The vehicle is equipped with an advanced infotainment system that supports Apple CarPlay and Android Auto, ensuring that drivers can stay connected on their journeys. The trims above base models also feature luxurious amenities like heated front seats and a large panoramic sunroof.
Performance
The 2023 Toyota BZ4X features an all-electric powertrain, which delivers instant torque for impressive acceleration. It is available in both front-wheel drive and all-wheel drive configurations, allowing drivers to choose the level of performance they prefer. All-wheel drive models are paired with Toyota's E-Four system, ensuring superior traction in various driving conditions.
Range and Charging
The estimated range for the 2023 Toyota BZ4X is approximately 250 miles on a single charge, which is quite competitive in the EV market. Charging is made simple with support for both Level 2 and fast DC chargers, resulting in shorter charging times and extended range capabilities.
Safety Features
The 2023 Toyota BZ4X comes packed with advanced safety features, thanks to the Toyota Safety Sense suite. This suite includes collision mitigation, lane departure alert, adaptive cruise control, blind-spot monitoring, rear cross-traffic alert, and automated emergency braking as standard across all trims.
Conclusion
While the naming choice for the 2023 Toyota BZ4X may be questionable, the vehicle itself proves to be a strong contender within the electric vehicle market. With its bold design, comfortable cabin, competitive range, and advanced safety features, the BZ4X stands as a decent EV offering from Toyota.