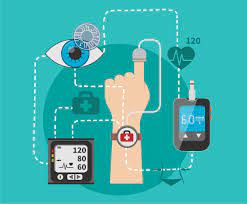 Cellular technology is a wireless communication technology that allows several communication devices such as smartphones, tablets, laptops, and computers to easily connect to a wireless network that enables access to the internet. This technology uses radio waves to connect devices to the internet.
The cellular network is made up of low to high-powered radio transmitters that are strategically located across cities, towns, and rural areas. These transmitters are commonly known as cell towers or base stations that send and receive signals from cellular devices.
Cellular technology works by dividing geographical areas into small cells, hence the name cell tower. Each cell is covered by a base station that transmits and receives data from cellular devices within that cell. This ensures that communication is not interrupted when a user moves from one cell to another, as the device will connect to the strongest signal available, transferring the user's data and information and maintaining a smooth transfer process.
The cellular technology system uses various wireless protocols such as 2G, 3G, 4G, and 5G, with each protocol improving the speed and functionality of the cellular network.
The first-generation mobile network (1G) was introduced in the 1980s, followed by 2G in the 1990s, which allowed the transmission of both voice and data signals. 3G, introduced in the early 2000s, offered faster internet speeds and improved accessibility to various multimedia services such as video conferencing, streaming music, and video. The advent of 4G technology in the mid to late 2000s allowed users to download and upload large amounts of data, and enabled mobile hotspot capability.
Finally, the most recent addition, 5G, offers better speeds, reliability, and wider access to the internet. 5G technology offers reduced latency, making it suitable for the increased demand for online services, applications, and mobile gaming.
Cellular technology has revolutionized the way people communicate, work and interact with others. Its ability to connect multiple devices at once, and improve communication, has led to the evolution of businesses, governments, and individuals. The application of cellular technology expands beyond communication and technology, with advancements and improvements being implemented in the healthcare, education, transportation, and real estate sectors.
The development of cellular technology has turned the world into a global village, allowing people anywhere in the world to connect easily and without hindrances to important information, global news, or interact with others. With more advancements in the pipeline, cellular technology is set to become an even more powerful and influential technology in the world.