How to 'Unsend' a Sent Email from Your Gmail Account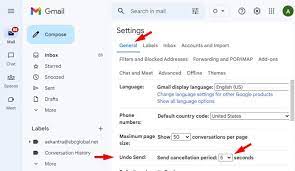 We've all been there – that moment of panic when you realize you've sent an email prematurely or to the wrong recipient. Thankfully, Gmail offers a feature called "Undo Send" that allows you to recall and 'unsend' emails within a specific timeframe after hitting send. In this article, we will guide you through the steps to unsend an email from your Gmail account.
Step 1: Enable Undo Send
To take advantage of the "Undo Send" feature in Gmail:
1. Open Gmail in your web browser.
2. Click on the gear icon located at the top right corner of the screen to access Settings.
3. From the dropdown menu, select "See all settings".
4. Scroll down until you find "Undo Send" under the "General" tab.
Step 2: Choose Your Cancellation Period
In the "Undo Send" settings:
1 . You'll see an option labeled "Send cancellation period".
• This determines how long (in seconds) you have after sending an email before it is actually delivered.
2 . Select a cancellation period that suits your needs from the available options (5, 10, 20, or 30 seconds).
• The longer duration gives you more time to change your mind and unsend an email.
Step 3: Save Changes
After selecting your desired cancellation period:
1 . Scroll down further and click on "Save Changes".
• It's essential to save changes for them to take effect.
Unsending an Email
Now that you have enabled Undo Send and set your preferred cancellation period:
1 . Compose a new email as usual.
2 . After clicking on 'Send', look for a yellow notification bar at either top or bottom of screen (depending on UI version) with the option to "Undo".
• This notification will only appear during the cancellation period you set.
3 . Click on "Undo" to stop the email from being sent.
Additional Tips
Here are a few additional tips regarding Gmail's 'unsend' feature:
• The "Undo Send" feature is only available for emails sent via Gmail on the web. It does not work in mobile apps or third-party email clients.
• Keep in mind that once the cancellation period has elapsed, it becomes impossible to unsend an email. Therefore, double-check your messages before sending them.
• If you frequently find yourself needing more time to decide whether to unsend an email, consider choosing a longer cancellation period when configuring "Undo Send".
• Remember that while 'unsending' an email can prevent someone from seeing its contents, it doesn't guarantee complete privacy as recipients may have already received a notification about receiving an email from you.
Conclusion
The ability to 'unsend' emails using Gmail's "Undo Send" feature provides valuable peace of mind and helps rectify those accidental or hasty sends. By enabling this feature and setting your preferred cancellation period through Gmail settings, you can regain control over mistakenly sent emails and avoid potential mishaps.