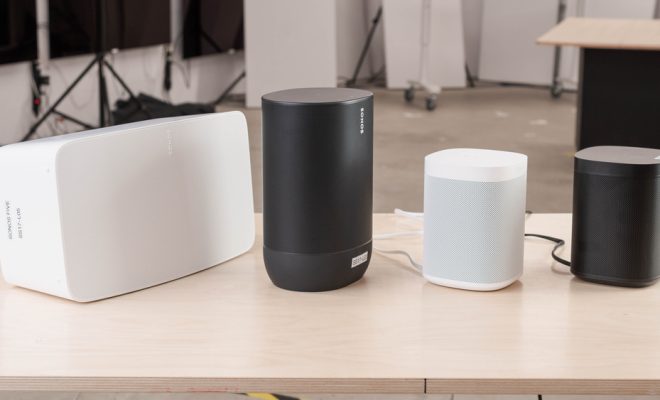 As music lovers, we all crave for a surround sound music experience that takes our music listening to new heights. The Sonos speakers are not just any ordinary speakers, they are the pioneers of smart speaker technology. The Sonos speakers offer a range of features and benefits to provide an immersive music listening experience.
Here are the top 5 Sonos speakers that deliver the best-in-class sound quality, design, and usability.
1. Sonos One SL
If you are looking for a compact, reliable, and budget-friendly smart speaker, then the Sonos One SL should be your go-to option. It offers a great sound experience with deep bass, clear trebles, and sharp mid-tones. The best part is that it is easy to set up and can be paired with other Sonos speakers for a surround sound experience.
2. Sonos Beam
The Sonos Beam is an exclusive smart speaker for your TV. It has a sleek design, which makes it blend effortlessly with your TV setup. Apart from offering high-quality audio, it comes with Amazon Alexa, Google Assistant, and Apple Airplay 2 compatibility. You can easily control the speaker with voice commands.
3. Sonos Move
The Sonos Move is the ultimate smart outdoor speaker that offers great flexibility and portability. It is weather-resistant and durable, making it ideal for picnics or outdoor gatherings. The battery life is exceptional, with up to 10 hours of audio playback, providing a seamless music experience.
4. Sonos Playbar
The Sonos Playbar is a top-of-the-line soundbar that delivers an immersive audio listening experience. It comes with a powerful bass and rich treble, making it an ideal choice for a home theater setup. With the Sonos Playbar, you can stream audio from your favorite streaming services and seamlessly integrate it with your home audio system.
5. Sonos Arc
The Sonos Arc is a stylish and futuristic soundbar that offers unmatched sound quality. It comes with Dolby Atmos support and provides a 3D surround sound experience. With Apple Airplay 2 compatibility, you can effortlessly control the speaker with voice commands.
In conclusion, the Sonos speakers have made a massive impact in the world of smart speakers. They offer superior sound quality, intelligent features, and versatility, making them a must-have gadget for music lovers. Whether you are looking for a compact speaker or a high-end soundbar, the Sonos speaker range caters to all your audio needs.