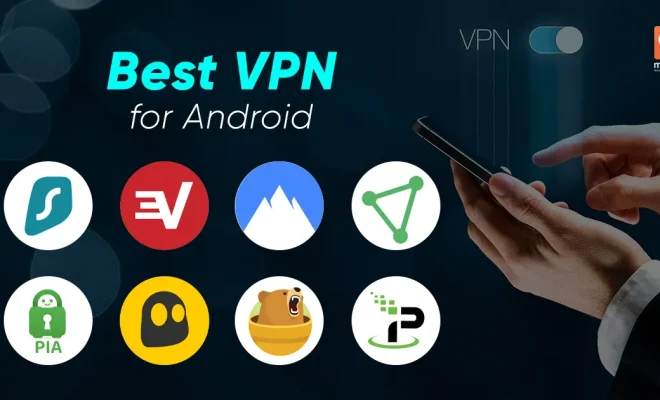 In today's world, it has become essential to protect one's online privacy and security. A Virtual Private Network (VPN) provides users with a secure and private connection that ensures anonymity while browsing the internet. Android users must install a VPN for secure browsing and to avoid being tracked online. In this article, we will discuss the top Android VPNs that you can consider for the ultimate browsing experience.
1. ExpressVPN
ExpressVPN is undoubtedly the best VPN for Android users. It offers a sleek and easy to use interface that allows users to connect to 3000+ servers in 94 countries worldwide. It uses the military-grade AES-256 encryption that ensures maximum privacy and security over any public Wi-Fi network. With ExpressVPN, users can unblock any geo-restricted content worldwide, including Netflix, Hulu, and Amazon Prime.
2. NordVPN
If you're looking for a VPN that offers a high level of security and privacy, NordVPN is an excellent choice. This service provider has more than 5500 servers globally and uses the same encryption as ExpressVPN. NordVPN also comes with an ad-blocker and malware protection features, making it one of the best VPNs for Android. Users can access any content that is geographically restricted and enjoy it in superb quality.
3. Surfshark
Surfshark is another great VPN option that is perfect for Android users. It offers top-notch security features and a no-logs policy, ensuring maximum privacy while browsing online. With over 3200 servers in 65 countries, Surfshark allows users to unblock geo-restricted content from anywhere in the world. Moreover, it also comes with a unique feature called "multihop" that allows users to encrypt their traffic through two or more VPN servers, adding an extra layer of safety.
4. CyberGhost
CyberGhost is an affordable VPN service that does not compromise on security and speed. It has over 7000 servers worldwide and operates under a strict no-logs policy, ensuring maximum user privacy. With CyberGhost, users can unblock geo-restricted content from anywhere in the world, including streaming services like Netflix and BBC iPlayer. It also offers various features, including ad-blocking and malware protection, making it one of the best VPNs for Android.
5. Private Internet Access (PIA)
Private Internet Access is another reliable VPN service that Android users can consider. It has over 3292 servers in 46 countries worldwide and provides robust security features, including OpenVPN and L2TP/IPSec protocols. PIA also has a strict no-logs policy, ensuring maximum privacy while browsing. It allows users to connect up to 10 devices simultaneously, which is a plus considering how many devices we use today.
Conclusion
In conclusion, the above-listed VPNs are some of the best options for Android users. They offer excellent security and privacy features, ensuring maximum safety while browsing online. Users can choose any of the listed VPNs based on their preferences and budget, but suffice to say they are all excellent options. By installing a VPN, Android users can protect themselves from online surveillance, hackers and unblock all their favourite streaming shows guilt-free.